Ski at La Plagne - Paradiski
La Plagne:

One of the large skiing areas of the Alps : Elev. 3,750 to 10,200 feet; 230 km of runs, 95 lifts. Split between 10 different resort centers, the ski area is extremely varied. Steep slopes at the summits with breathtaking views on the peaks. Enjoyable rides through the heart of the forest. Runs in the sun, runs in the shade, there's plenty for every taste and every level of difficulty.

Plagne Montalbert

Whereas La Plagne is one large integrated ski area, Plagne Montalbert is one of the 10 resort centers. A characteristic « Village Resort », it offers Shops and Services « with a smile ». Prices are without the excess that you might find in larger resorts, and its size is just right for a good choice of restaurants and shops, without being noisy and overcrowded. Fully integrated to La Plagne as far as skiing, the slopes around Plagne Montalbert, surrounded by the forest that protects them, are popular places to ski in bad weather. In good weather (most of the time!) skiers will take advantage of the vastness and height of the rest of La Plagne and Paradiski.
Paradiski

La Plagne and Les Arcs combined, connected by a double decker horizontal cable car flying over the Peisey Valley. 450km of runs, 200 lifts and an incredible choice of terrains and breathtaking sceneries. Skiing becomes a journey made of long, varied runs and and ski lifts.
Departing Plagne Montalbert, skiing to Villaroger (the other side of Les Arcs) and back will take a good skier a full day, with little time to stop for lunch.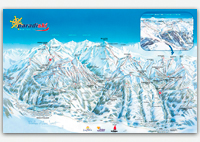 Discounts on lift passes available from us range between 14 and 30% off the public price. Typically, a La Plagne adult day pass will cost you 35 € instead of 50 € (2015-2016).
There is a ski school with instructors for all levels just 2 ½ miles away.
How close we are to the slopes
Our very own "as soon as you are ready" minibus service to the slopes. . We will take you to Plagne Montalbert in 5 mn, just yards away from the main gondola, the slopes, the tourist office or the ski rental company. We will pick you up at the same place when you choose. All you need to do is give a us call with your cell phone, and we're there in 5-10 mn. You can also ski back down to the chalet when snow conditions are right, off piste under your own responsability.
Skiing in different areas of the Tarentaise Valley
Our geographical location is very central for anyone wanting to try different ski areas during the same holiday. 3 Vallées (Méribel, Courchevel, Val Thorens) is a mere 20 mi. away, Les Arcs, 15 mi. ; La Rosière (with a link to La Thuile in Italy), 20mi. ; Tignes and Val d'Isère, 35 mi.
Off piste, Nordic and Cross country skiing
The north and south faces of the Bellecote mountain, accessible by the La Plagne lifts system allow off-piste excursions through majestic mountain landscapes and elevation differences of more than 1800m. Heli-skiing in the wilderness of the Aosta valley is a unique experience. (Available from the La Rosière lift system, 20 mi. away). The Vanoise park and the Beaufortain range are unforgettable expanses for cross-country skiing. Our partners from the Guides Bureau can accompany you on any imaginable trip, near or far. What better way to discover the Alps ?

With its vertical surroundings, the region offers the real jewels of Nordic ski itineraries whether for sport or contemplation. The dedicated runs of Montalbert are only a little over a mile from the chalet. There are several other famous spots in the area, renowned for their beauty and wilderness or their technical challenge. If you wish, ski school instructors are available to help you reach your top level.
Snow-shoeing
The mountains are especially beautiful in winter. Trails from the chalet give you the opportunity for snow-shoe excursions that are always full of interesting discoveries.
Snow-shoes are available at the chalet, and we will lend you maps and compass. There are also day excursions organized by the Plagne Montalbert ski school. Join a group for an unforgettable day of learning about the rocks, the vegetation, the animal tracks and the mouintains in general.
Bobsleigh
Many variations on this sport have been developed for the general public. The most spectacular is comparable to the competition sleds. Three passengers, with a professional pilot, make a descent at more than 60 mph. (Prohibited for those under 18, or those with heart conditions or circulatory or spinal problems.) Built for the 1992 Albertville Winter Olympics, the La Plagne bobsled run has a world-class reputation.
Dog sledding
Have you ever dreamed of driving your own team of sled-dogs ? It is possible, nearby the Gite. Go out for a few hours or a day on an unforgettable journey.
Paragliding
Paragliding and Hanggliding let you fly over snowy peaks, from different points of the La Plagne ski area accessible by ski.